It's Christmas Eve. I probably started this blog at the wrong time - right after the season finished - but now is when things get good.
Sadly, my own Tottenham will not be playing tomorrow (thanks, rioters), but at least that means I can have a nice, stress-free opening day.
So let's start at the top. The top 6 would appear to be set in stone, so let's go through them. With Man City you have the generic questions of whether all their new signings would gel, whether certain players (like Aguero) will settle in, and whether the manager's tactics are a little too defensive (oh, and speaking of Aguero - I'm glad somebody finally bought him. He's been linked with every club under the sun that has money for the last 5 years).
However, the team and overall squad itself is probably one of the most complete in the league. Selling Given is a bit of a shame, if only because it's fairly important to have two quality goalkeepers and he was, without doubt, the best backup 'keeper in the league. Costel Pantilimon is unproven (though highly-rated), and Given has been one of the best goalkeepers in the league in the past decade - so not a bad bench option. That is probably the only blot on their copybook so far this summer, though, with the future of Carlos Tevez as-yet undecided.
Chelsea's only significant improvement has been the signing of Romelu Lukaku. This is a shame for Daniel Sturridge, who, having impressed on loan at Bolton last season, already faced a hard time getting first-team opportunities (being behind Drogba, Anelka and Torres in the pecking order), but the addition of Lukaku is another blow for his Chelsea future. New manager Andre Villas-Boas is clearly happy with with the squad he has, even though most of them are the same age as him. Having seemingly
failed to sign Luka Modric
, he has not looked for an immediate replacement.
Man Utd will, as always, be tough to beat. Nobody can doubt the ability of some of their players, but they looked rather average at points last season. It was the goals of Javier Hernandez that really secured the title for them, and there will be pressure on him to do it again. They have had an excellent summer, however. Ashley Young is a signing that will give them several more options, given his versatility.
Man Utd are my tip for this year's title
Liverpool are possibly the biggest x-factor this season. Much like when Harry Redknapp joined Spurs, I don't buy that Kenny Dalglish is the miracle-working manager people made him out to be. There were a lot of factors in place for Liverpool to improve greatly, not least a squad that was already pretty good. The traditional "new manager" boost came into effect - and then that was augmented by signing Luis Suarez, the new owners and the general optimism surrounding the club. However, they have signed very well this summer and, most importantly, got their players in early and bought young. So while I still think the jury is out on Dalglish, the squad they now possess is very well-rounded, though perhaps a little heavy on midfielders.
As for Tottenham...well, the window isn't closed yet and Levy likes to wait until the last minute to make his deals, so we'll see. However, they have thus far failed to strengthen while everybody around them, sans Arsenal, have improved. Most notably, they still lack a striker and the likes of Robbie Keane are still on the wage bill. As a result, I would expect Spurs to finish sixth. This is a shame. Their first game will now be away to Manchester United, thanks to the Everton postponement, which is not a good omen.
Aston Villa will likely be back in the mid-table mediocrity (of course, with
Darren Bent
in the team, mediocrity is practically a guarantee) of the pre-O'Neill days - MacLeish is a good, but not great, manager, and certainly not on O'Neill's level. I don't think they'll be in trouble, but I don't think they'll be posing much of a challenge. As stated on my last entry, however,
N'Zogbia was a very shrewd signing
given his potential to act as a viable replacement for their two biggest losses this summer - Ashley Young and Stewart Downing.
Newcastle
would appear to be in a little bit of trouble given the sales of Carroll, Nolan and...the existence of Joey Barton in general, but I also believe that they have a very hungry, attacking, young squad. Hatem Ben Arfa is exceptionally talented and Gabriel Obertan might end up being one of the biggest bargains of the season.
As for the relegation fight, I think it'll be fairly open. You would always look at the promoted teams as potential candidates for relegation, but I think QPR are likely to stay up. Their success might be dependent on Adel Taraabt, and whether or not he is found out in the Premiership. I was a great admirer of Taarabt when he played for Tottenham, but he was still very raw and not the greatest team player. The question will now be whether, after a season of playing regularly for QPR and being given the responsibility of the captain's armband, he has overcome those faults to be an important part of QPR's survival hopes. Certainly they did a very good job of keeping him, repelling interest from Paris Saint-Germain among others.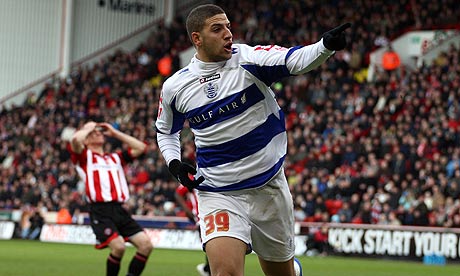 QPR's Adel Taarabt will be key to their survival hopes
Swansea and Wolves are two teams I feel will be relegated. Swansea might well end up being like the West Brom team of a few seasons back, when they were managed by Tony Mowbray - trying to play attractive football, and I commend them for that, but ultimately failing and being relegated. I might be selling them short, but that is how I picture them. Wolves are living on borrowed time, and have been extremely fortunate to survive the past two seasons. I don't particularly dislike them as a team - in fact, I quite like Mick McCarthy - but I feel it is time for them to go.
In the same vein, I also think Wigan will go down. They seem to have been just surviving for the last few seasons, and they have lasted far longer in the Premiership than anybody could have expected. They have been a great underdog story and they might surprise me yet again - I've been predicting them to go down for a while now - but I think this year might finally be the year they go. The loss of N'Zogbia will, I feel, leave a large gap in their team that they will struggle to fill. They have also lost Tom Cleverley, who has returned to Man Utd after his loan spell.
I haven't mentioned everybody here, but you can expect full coverage as the season progresses. In summary: Man Utd win, Wigan, Wolves and Swansea go down. Maybe. I've never been that good at predicting.